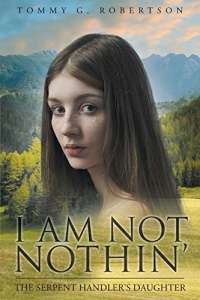 I Am Not Nothin': The Serpent Handler's Daughter by Tommy G. Robertson takes readers back to a time and place where things might seem simpler on the surface, but in reality they are not. Centered in a coal mining "company" town, the cast of characters are dealing with a type of indentured servitude to the owner of the coal and coke company while they are just trying to get by in life.
The novel follows Dorie, Eli, Bud Maynes, Josiah Johnson, and their family, friends, and co-workers through their mundane, yet complicated lives and gives the reader a look into a time gone by, offering a vivid and realistic window into early 20th century life.
Written in a vernacular that is proper for the time period, the book is well-written and easy to get lost in, given its historical detail and inspiring message of hope in the face of adversity. The less sophisticated vocabulary of the characters is endearing and true to life, and surprising events throughout the book keep the reader interested and curious as to what will happen next, especially the evolving relationship between the illiterate but soulful Dorie, and the traumatized soldier Elijah. Beyond these well-drawn character portraits is a tale about mining, bootlegging, and religion's influence on Appalachia, giving the novel the flavor of authentic history.
Robertson conveys this multi-layered story with grace and sensitivity. I Am Not Nothin' is ultimately a book about the healing power of faith, leaving readers with a feeling of comfort by the last page.
Links
Amazon