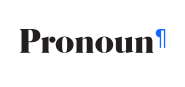 In fairly shocking news, ebook distributor Pronoun is closing shop. From their homepage:
Two years ago Pronoun set out to create a one-of-a-kind publishing tool that truly put authors first. We believed that the power of data could be harnessed for smarter book publishing, leveling the playing field for indie authors.

We are proud of the product we built, but even more so, we're grateful for the community of authors that made it grow. Your feedback shaped Pronoun's development, and together we changed the way authors connect with readers.

Unfortunately, Pronoun's story ends here.

While many challenges in indie publishing remain unsolved, Macmillan is unable to continue Pronoun's operation in its current form. Every option was considered before making the very difficult decision to end the business.

As of today, it is no longer possible to create a new account or publish a new book. Pronoun will be winding down its distribution, with an anticipated end date of January 15, 2018.

For the next two months, our goal is to support your publishing needs through the holiday season and enable you to transition your books to other services. For more detail on how this will affect your books and payments, please refer to our FAQ.

Thank you for the time and attention you've contributed to this experience. It has been a privilege to publish together, and we look forward to meeting again. #keepwriting

Sincerely,
Macmillan Publishers
Pronoun's free publishing model was somewhat too good to be true – free distribution while keeping 100% royalties – and that actually turned out to be the case. Even having the backing of a Big 5 publisher was not enough to save the startup.
BookBaby attempted to do something similar – starting as a fee-based ebook distributor, then switching to free, and then switching back to a fee-based model. At the very least, Smashwords or Draft2Digital's model of free publishing + a percentage of the royalties seems a sustainable model, as they're both going strong.
In short, giving away things for free isn't a great business model, even if (and maybe especially if) it makes you instantly popular.
Self-publishing generally should cost some amount of money. Yes, Amazon KDP is free to publish, but if you're publishing a book straight to Kindle without paying anything for a cover or editing, then you're going about it wrong. And if you're expecting all of the tools of self-publishing to be free, this is not economically viable for self-publishing companies, whether they offer distribution and conversion, as Pronoun did, or other tools of the trade, so fee-based publishing will likely be the model going forward.