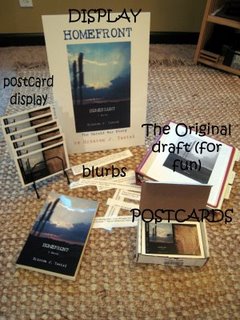 POD = pod
As a self-published POD, I think I may be in a good place, considering. Just got into two bookstores, and I am awaiting a blurb from someone I hope is influential enough to convince more people to read my book.
I learned today, however, that having a book in a store, on a shelf, doesn't necessarily place me above pod (lowercase) status when compared to the Published butterflies.
I've been trying to schedule a reading at one of the stores that currently has my book, but the woman who schedules the events has yet to return my call. Assuming she's just busy, I took the trip to the store today to drop off some of the postcards I'd made with the store's logo on the back. I thought they might be something they could place on their counter near the register. I had no intention of bothering the scheduling woman, however; I try not to be a pest.
The man at the register said I certainly could place my postcards there (and why wouldn't he? they're selling my book), and even asked if I'd like to place a postcard inside the book.
I walked to my own very special spot on the shelf and slipped in a postcard.
"Excuse me," he said, and waved at me from across the store. "Maybe – do you want to sign it, and then we'll put a sticker on the front?"
"Sure!" I said.
He advised me to bring a copy to the front and gave me a thick blue marker. I signed the inside, and he slapped a sticker on the cover that said "Autographed copy."
"Have you arranged a reading?" he said.
"Not yet. I've called, but haven't heard back."
He started typing on the computer, said, "I'm going to look at getting more copies."
"I think the problem might be that it's POD," I said. "They're not returnable."
He looked at me, then, and muttered something before rushing to the other end of the registers and typing into a different computer. I followed him over there so he wouldn't have to come all the way back to where I was.
"They're not returnable," he said, emphasis on "not."
"Guess I shouldn't have signed it then, huh?" (Now, of course, I realize it doesn't matter if I signed it or not – once a book is signed, it's not returnable; so, my signing an already non-returnable book really affects nothing at all.)
He turned to me and said, "How did this get into our inventory?"
Quite insulted, I said, "Someone in your store ordered it."
"We don't usually order POD," he said.
"It went through a review process." I stayed very un-indignant. "Someone read it and decided they liked it enough to order it."
"Well," he said. "Okay."
And then he was pretty much done talking to me. He'd previously been very excited by my presence in the store, it seemed. He was extraordinarily helpful and attentive. I think it was not only due to the customers waiting in line that he lost interest so quickly.
I brought my book back to the shelf and left the store.
I don't know whether, due to the non-returnability of my book, I'll ever get the chance to do a reading at this particular store. But, at the very least, I hope they don't throw away my sad little POD postcards.