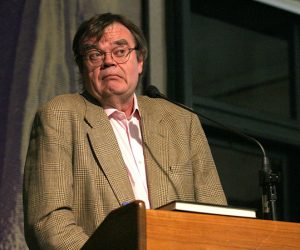 Today's must-read.  Garrison Keillor signals the death of publishing and the birth of…something else:
And if you want to write, you just write and publish yourself. No need to ask permission, just open a Web site. And if you want to write a book, you just write it, send it to Lulu.com or BookSurge at Amazon or PubIt or ExLibris (sic – in the NY Times no less) and you've got yourself an e-book. No problem. And that is the future of publishing: 18 million authors in America, each with an average of 14 readers, eight of whom are blood relatives. Average annual earnings: $1.75.

Back in the day, we became writers through the laying on of hands. Some teacher who we worshipped touched our shoulder, and this benediction saw us through a hundred defeats. And then an editor smiled on us and wrote us a check and our babies got shoes. But in the New Era, writers will be self-anointed. No passing of the torch. Just sit down and write the book. And the New York Times, the great brand name of publishing, will vanish (POOF) whose imprimatur you covet for your book ("brilliantly lyrical, edgy, suffused with light" — NY Times). And editors will vanish.

The upside of self-publishing is that you can write whatever you wish, utter freedom, and that also is the downside. You can write whatever you wish and everyone in the world can exercise their right to read the first three sentences and delete the rest.

Self-publishing will destroy the aura of martyrdom that writers have enjoyed for centuries. Tortured geniuses, rejected by publishers, etc., etc. If you publish yourself, this doesn't work anymore, alas.
Another must-read.  Many publishing bigwigs – including alt-publishing bigwigs – take issue with this.  A sample:
"The fallacy in all these apocalyptic pronouncements is to confuse 'publishing companies,' especially the New York ones, with 'the publishing industry.' Some companies are absolutely ill-equipped to deal with the ways the marketplace of reading has changed, some are fumbling toward a solution, and some are laying the foundations for enduring success. There will always be readers; the question is: Who is ready to put in the work of reaching them?"— Ron Hogan
Personally, I don't think he's that far off and don't really understand the outrage.  The reaction seems overly defensive to an opinion piece that was very subtly satirical in Keillor style.  There is a sort of Andy Rooney-vibe about being befuddled by the present day, but the fact is the old days of publishing when Keillor came of age had some value.  What he doesn't seem to understand is that there are other types of acceptance and rejection than what's doled out by an editor – book buyers, for one. Still, there's a sort of wistfulness when he says – "It was beautiful, the Old Era. I'm sorry you missed it" – as if saying, I'm sorry I'll be missing the future.