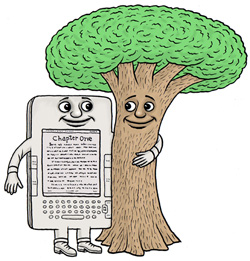 On Facebook, Writer Beware linked to this thought-provoking, and pretty depressing, article about ereaders.
The New York Times recently calculated that the environmental impact of a single e-reader—factoring in the use of minerals, water, and fossil fuels along the manufacturing process—is roughly the same as fifty books. At first that sounds encouraging; after all, even the smallest personal library contains fifty volumes. But the real problems come in lifespan. At present, the average e-reader is used less than two years before it is replaced. That means that the nearly ten million e-readers expected to be in use by next year would have to supplant the sales of 250 million new books—not used or rare editions, 250 million new books—each year just to come out footprint-neutral. Considering the fact that the Association of American Publishers estimates that the combined sales of all books in America (adult books, children's books, textbooks, and religious works) amounted to fewer than 25 million copies last year, we have already increased the environmental impact of reading by tenfold. Moreover, it takes almost exactly fifty times as much fossil fuel production to power an iPad for the hours it takes to read a book as it would take to read the same book on paper by electric light.
A couple things – while this is no doubt troubling, he doesn't provide an statistics about "the average e-reader is used less than two years."  For one thing, the true e-book revolution is less than two years old, so it's hard to gauge the use of Kindles by people who were given them as a gift last Christmas.  Though there are (insane) Apple fanpeople who will buy the next generation anything, iPods are pretty durable.  I've kept the same one for years.  Truth be told, though, I did buy an iPad after my Sony reader broke within that two-year time-frame.  But the whole selling point of the Kindle is that it does one basic function very well.  Kindles will most certainly come along with color and HD video, but e-ink is a pretty durable technology.  So it's possible that upgrading your Kindle after every new release is the exception, not the rule.
Frankly, the problem isn't e-readers, but the oil-based economy.  People may feel like they're doing some good driving a Prius, but when each tire has seven gallons of oil, and every plastic component/every machine to build it/every vehicle to transport it, is oil-based, then the value you're getting from reduced emissions is not all that great.
There's no doubt that e-readers carry a lot of waste.  But to me, they seem like something that are currently imperfect, but were meant to be.  Imagine an ereader that is built by totally green tech.  Stopping the innovation and expansion of ereaders now means we will never get to that point.
Also, paper books aren't harmless.  See this old SPR post:
Reducing paper use does more than save trees. Pulp and paper mills are also a major source of pollution. They release into the air CO2, nitrogen oxides (NOx), sulfur oxides (SOx), carbon monoxide, and particulates, which contribute to global warming, smog, acid rain, and respiratory problems. In addition, bleaching paper with chlorine can produce dioxin, which is known to cause cancer. Paper mills also produce large amounts of solid waste and require a lot of water. The industry is trying to clean up, but anyone who's driven past a paper mill has smelled the challenge.
The basic conclusion of that post is the opposite – ebooks are an environmental aid.  It all depends on how decadent people get with replacing ereaders.  Planned obsolescence also needs to be a thing of the past.  The Kindle doesn't to have these built-in problems as much as Apple products.  Though Apple software will no longer run on old machines – Amazon is always accessible.  So long as the overall attitude of manufacturers and users is sustainability, ereader tech should be headed in the right direction.  That's an open question.