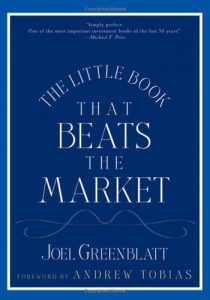 Book covers are important marketing tools for publishers. It's difficult to gauge actual sales made on cover design alone, but there have been numerous anecdotal stories from major publishers that clearly demonstrate the impact a strong cover design can have.
Penguin discovered the power of the cover in the late '90s when the company hired several graphic artists to design new covers for its Modern Classics series. The experiment proved a huge success with the under 25 demographic. Sales soared.
In the March, 2006, meeting of the Association of American Publishers, Marcella Smith, director of small press relations for Barnes and Noble, discussed how coordinating marketing and cover design can help sell a book. She used the redesign of The Little Book That Beats the Market (Wiley, 2005), as an example.
As reported in the March 24, issue of Publisher's Weekly Daily, Smith described the original book jacket as pale blue with a dollar sign. After the publisher discussed the cover with buyers, Smith says, the book jacket was redesigned to a more classic dark blue with white lettering, better suited to its traditional business audience. The book became a hit and the jacket was credited with being an essential element in its popularity.
Independent publishers might do well to take note of what these larger companies with big budgets have demonstrated. The lesson is not just that good covers equal more sales, but that flexibility can increase sales.
Self-publishers often believe too strongly that covers have to be a form of branding. This is not the case. Certainly it can be, if there are plans to produce spin-off items, or CDs or to publish a series, but getting too bogged down with the idea of cover branding can restrict the design focus so much the covers falls short of its potential. There are other options for branding, such as a logo or title style that can be carried from one book to another. The Harry Potter series does this for the most part.
And there's no reason to stick with a cover that isn't really working. Many books have been published with different covers throughout the years; A Clockwork Orange and Lolita both come to mind. Some books have been released simultaneously in different regions with different covers, including the Harry Potter books. The first book in that series even had a different title in Canada.
While many people will overlook the fact that a self-published book looks less than professional, they really shouldn't. While larger publishers have dozens of books to produce, and no invested interest in one over the other, independent publishers have only one project in most cases, and know more about the book, and hopefully the target market, than anyone else. Few project managers are so well informed about a product.
Independent publishers also have access to the same caliber of designers, and can license the same images as the major publishing houses. Despite reports to the contrary, many well-known publishers are using royalty-free images that are available to anyone.
Even so, these assets don't always translate into a strong cover design. One of the biggest complaints about self-published books is that they have amateur-looking layout and design. Many book stores will pass on books that don't look competitive and Barnes and Noble's small press division won't hesitate to reject a book if it has a poorly designed cover.
Why would books using the same images and designers with the same skill levels have covers of different quality? The difference could be experience. Not the experience of the designer, but of the project manager, "the boss," whoever the designer must please. An unskilled project manager can turn a great cover into a mediocre cover with a few small changes. Even an award-winning image can fall flat if it's paired with a poor font choice, or manipulated in such a way it detracts from the design.
While one of the attractions of self-publishing or managing your own publishing business is that you get to make the final decisions, it's always a good idea to know what it is you do not know. Sometimes, being a good manager means hiring the right people for the job and knowing when to back off.
Keeping an open mind, considering all ideas and being familiar with what is currently selling in your genre, are all important elements that will ensure you end up with a book cover that does its job.