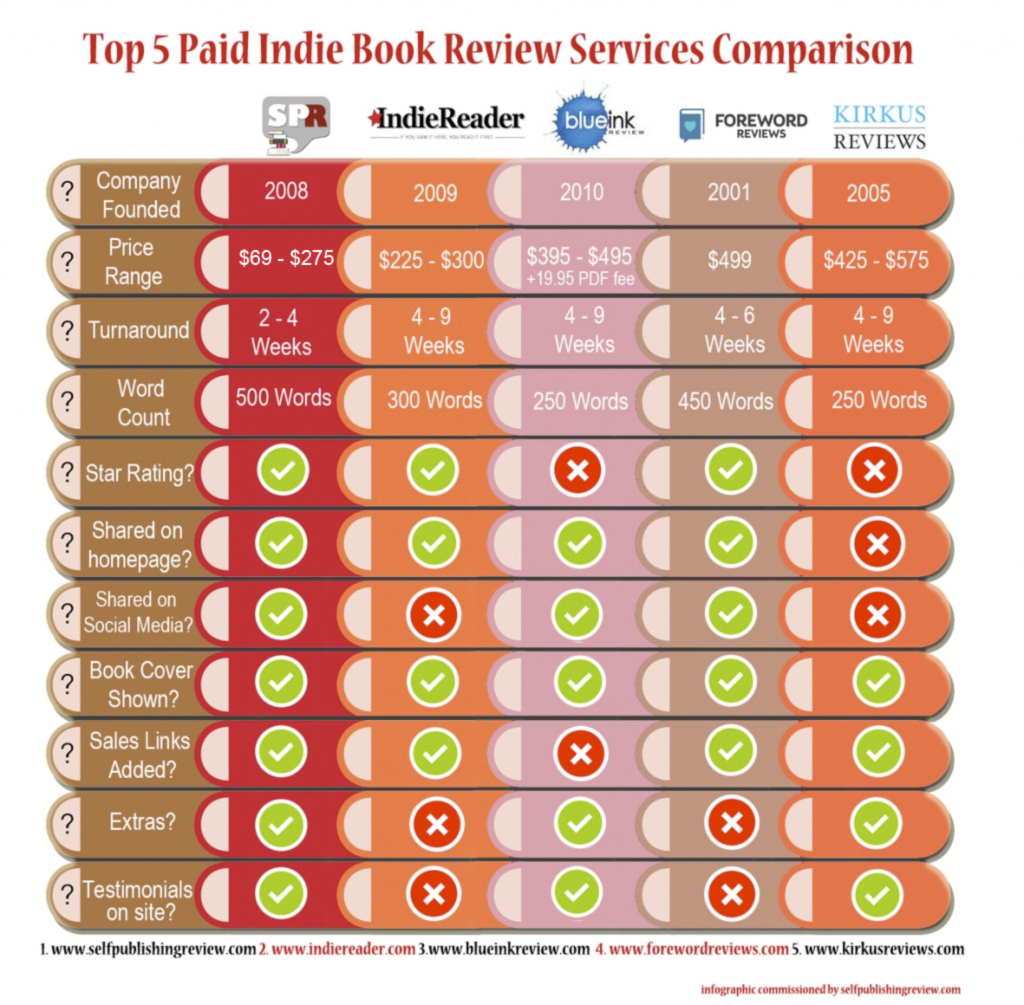 It's difficult to know exactly what you're getting when you shop for a professional review, so Self-Publishing Review decided to commission a study to look at eleven factors that have been brought to our attention by SPR clients most often, and compared our services to the competition.
Here at SPR, we consider that we are one of five review service big-hitters, and therefore we compared ourselves to each of those: BlueInk Review, Foreword Clarion, Kirkus Reviews, and Indie Reader. We chose these because they use professional writers, have good quality websites and a sizeable brand presence in the indie book arena.
We were firstly glad to see that we are the most economical review service out there, and also the speediest. We also offer the most words in a single review, and we were one of three services to offer provable testimonials straight from clients on our website.
There are however some other favorable assets to some of our competitors, which may balance out the reasons behind the bigger price tags.
Foreword Clarion are one of the set-in-stone services on the block, and do offer a solid review service with a star rating and links on a clean and bustling website; but Clarion don't offer any extras. At Clarion, it seems your review may be shared on their Facebook but they currently have only 68 likes. Foreword's main Facebook does not share reviews as a rule, it seems. They come up second-speediest for their regular review turnaround time at six weeks.
USP – Clarion promises to share your review with "our partners, such as Ingram, Baker & Taylor, Cengage, Bowker, and EBSCO [who] will spread the word to thousands of librarians and booksellers." Their reviews are written as formal copy giving you the opportunity to use sections accordingly, and have the sections stand alone, such as their "Money Quote".
Downside – Cost
Kirkus Indie Reviews do offer some flimsy promises of sharing your review on their newsletter, with 50,000 readers, but it seems the word "may" instead of "will" implies it's at their discretion, as is the glimmer of a chance to be featured in Kirkus Reviews Magazine, and apart from being shared on the usual platforms (Google is mentioned, but that's anything on the web) there doesn't seem much else, so you are paying for the privilege of adding the review to your Amazon or Goodreads author section and showing off the stars Kirkus have given you along with a quote. Depending on what sort of writer you are this may or may not work for you sales wise. Kirkus is renowned for having professional reviewers, and the tryouts are tough for the job, so you will certainly get a well-crafted review for marketing purposes. Having said that, at 250 words priced at up to $575, it seems rather short of a good deal. You are definitely paying for the name at Kirkus.
USP – Biggest name in indie books means you get to quote Kirkus on your author page and get a chance to be in an industry print magazine. Copy is likely to be decent and very useable, and written in a formal copy format so you can use various parts of your review for different purposes.
Downside – Cost, time and the site features all kinds of books mixed in, meaning your self-pubbed has a lot of work to do to get seen if not picked up. See ALLi's article on Kirkus reviews here.
BlueInk Review, our seasonal partners, offer more of a literary package. Their extras include sharing on library lists and in publishing circles, and considering that co-owner Patricia Moosbrugger is also a seasoned literary agent, the review becomes a small part of a promising kickstart for any author. You can also be sure of a fully edited and proofread review from a professional at BlueInk, and their service remains personal and prompt. BlueInk also share select reviews on their flourishing Facebook page as well as Pinterest and Twitter. Only exceptional books will receive a star rating.
USP – Literary connections and library listings are a plus, reviews are well-written and customer service is impeccable, often do deals with partners, such as SPR, that give discounts and offers.
Downside – No sales links to book
IndieReader has just put prices up by as much as $100, so it seems that their claims of being "the most cost-effective" review service need some further examination. Personally I think their star system comes off kind of snarky instead of encouraging: one star apparently meaning, "Really bad; there's a reason this book is self-pubbed." which seems mean-spirited for a community-based industry. However, their site is clean, smart and modern and their mailing list is really informative. Again, you don't get any "extras" so you are just paying for a review that takes up to 9 weeks depending on what service you choose.
However, IndieReader is an incredibly good read and a go-to for industry news, so it's definitely worth looking at some exposure with IR as part of a marketing plan.
USP – Bustling website means your review will get seen. The second-lowest priced service.
Downside – Star-rating and review style may be a little terse for some, turnaround is slow.
SPR
We've got three review packages, starting at $69 if you need a quick fix of exposure within 2 weeks. Both our SPR review packages deliver in 4 weeks and have 500 words, and there are a ton of extras and discounts for members.
If we combine our readership of around 37,000 on social media allowing for repeats, plus our 7,000 subscribers, it seems we are doing pretty well on getting reviews seen, and we share the actual URL of the review on social media, our homepage and newsletters as part of the service.
We definitely score on cost, speed, plenty of copy, plenty of extras for marketing and exposure, and we provide lots of testimonials for potential clients to see what we do.
Have a look at our review packages here.
Looking at this study we've learned about developing our brand, and that is next on the agenda.
Until then, remember, a paid review is not just useful on the site you bought it on, but it offers a great advantage for having press release copy, back of book copy, star ratings and editorial reviews on all your sales outlets. Paid reviews are an essential part of a professional book marketing plan, and we're all here to help you discover your target audience and to use the right language to sell your book as an indie author.
Editor – This report has been corrected to reflect that BlueInk do share on social media and have testimonials on their site. Apologies for the error to Patti and Patty at BlueInk Review. Updated – May 2015