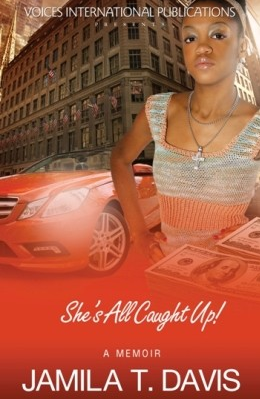 This memoir of a childhood and young-adult life spent advancing inexorably toward disaster was written from federal prison. Jamila Davis is currently serving a 151-month sentence for bank fraud. This memoir serves as both cautionary tale (for young people as well as their parents) and sociological profile. The cautionary tale is powerful, the sociological profile perplexing.
After an exciting opening that shows what is to come, the book is an extended flashback of Davis's childhood, even giving some background on her parents' origins. The book is well-written and engaging. Davis is a spunky and charming child, and her family is loving and supportive, if a bit clueless. But watching her grow up is like watching a slow-motion train wreck. I was wincing by page twenty, bracing myself for the inevitable disaster by page thirty. Davis shows her flair for both business and trouble in grade school when she gets caught running a scam where she buys snacks and sells them at a high mark-up to the other kids at school who haven't young Jamila's capital or freedom to pop off to the candy shop. From there she takes a pretty straight route to infatuation with the street life and its lure of easy money—lots of easy money. Though her parents worked hard to overcome poverty in the rural South and establish a solid, middle-class life in Queens, Jamila heads straight back to the ghetto.
However, side-by-side with her affinity for the seamy side of life is a story of success and potential. Jamila is an extremely bright child and succeeds in pretty much everything she attempts, from advanced placement academic classes to dance and drama. As a child she is a cast member of an off-Broadway production about the life of Mahalia Jackson, and as a teen attends the LaGuardia High School for the Performing Arts, a prestigious prep school for performers. Alas, she manages to trash opportunity after opportunity after opportunity.
Though one might thing that the lessons in a story like this would be obvious, it is frustrating to see exactly where to fix the blame for Jamila's downfall. One obvious culprit is her outsized materialism. Nothing is as important to this child as wearing the right brands, having nice clothes and plenty of jewelry. Getting money from handsome young drug dealers eager to buy gifts for women seems like a good lifestyle. Eventually she gets a glimmer of something that in another culture might develop into feminism and decides to make her own money. Unfortunately, she does this not by using her many talents (at one point, just out of high school, she has a good job at a bank) or by taking seriously her education), but by selling drugs. I suppose she describes it best herself in the title; she was all caught up in a culture and lifestyle that most of us, black or white, can't really understand.
I was surprised that the book ends with Davis' arrest for transporting cocaine rather then the charge she is now serving time for. How she managed to climb from small-scale drug dealer to million-dollar real estate swindler is not detailed here (see her other books on Amazon for more). What is made clear, however, is how this delightful child and bright, talented woman veered rather steadily from a happy child in a loving family to a prisoner.
An outsized love of money and what Davis might have called the "bling" it buys (if you learn nothing else from reading this book, you'll learn lots of 80s-90s ghetto slang) was obviously a big part of it, a desperate need for attention, to be both admired and envied, and generally admired and envied for nothing more substantial than having the most expensive clothing, wearing the hottest brands, but there had to be more than that, but I never quite figured out what.
Though the book does not end on a hopeful note, Davis' story does. She is now using her considerable charm and writing skills to reach out to young people and their parents in an effort to keep them from getting all caught up as she did.
 Links
Amazon
Author Website
Smashwords