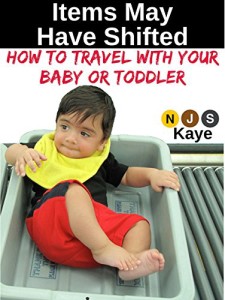 In Items May Have Shifted: How to Travel With Your Baby or Toddler, journalist NJS Kaye presents a "guerrilla guide" to traveling with young children based on copious experience and scholarly research.
Having taken her twin boys on 21 flights before their first birthday, Kaye provides the ins and outs of getting through security, boarding a plan quickly and efficiently, and changing a baby in an airplane restroom. She also covers tips for long car or bus trips, train travel, and even cruise ships. Each chapter ends with a short summary of "Souvenirs" with parental proverbs ranging from the abstract "Prepare for greatness and defeat" to the more practical "Pack peanut butter."
Kaye's "MacGyver Approach" is full of useful tactics to employ in nearly every situation a family may encounter while traveling. Her no-nonsense approach is for parents not above using bungee cords to keep children close and painter's tape for childproofing hotel rooms. Her sharp sense of humor makes the material both educational and entertaining, whether joking about selling her children on eBay or comparing a hand-operated breast pump to "honking a clown horn to wring water out of a rock." This humor may be a little edgy for some readers.
Kaye's guide stands out for its brevity and its thoroughness, as she covers nearly every conceivable topic, from efficient packing to health and safety in foreign lands. Following her advice will result in a more comfortable travel experience for parents, children, and fellow travelers alike.