Did you know the Brontë sisters were pioneers in self-publishing? In this look at their lives, vanity presses, underhand dealings, and ripoff merchants play in their rise to literary legend.
Patrick Brunty was an Irish clergyman from humble beginnings. Subtly changing his name over time to "Brontë," meaning "the sound of thunder" in Greek, to suit his loftier academic leanings, he had married and had six children, with Charlotte (1816–1855), Patrick Branwell (1817–1848), Emily (1818–1848) and Anne (1820–1849) surviving the deaths of their mother from cancer and their two older sisters Elizabeth and Maria from suspected consumption.
Patrick had taken on the perpetual curacy of St Michael and All Angels' Church, Haworth in June 1819, and it was there that the remaining four children saw out a bleak and friendless childhood, making up their own epic stories and plays to occupy their minds.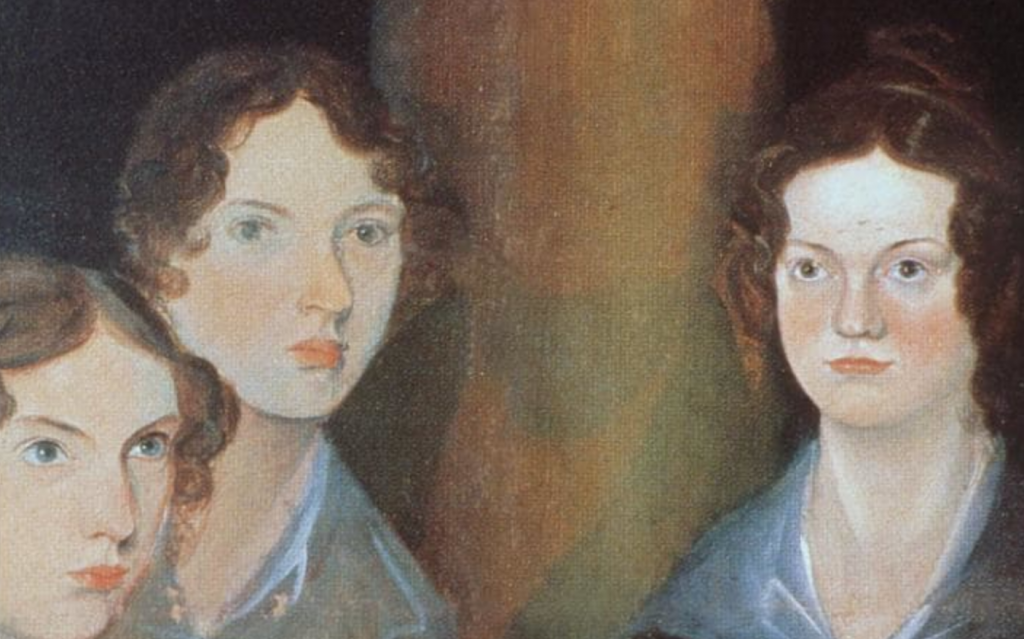 As they grew up, it became apparent to the three sisters that Branwell was nothing but a drunkard and "opium eater," and when their father died the house would revert back to the Church leaving them homeless. None of the sisters were considered "eligible," and have in fact been described as having been "ugly," "not pretty" and "without grace" in literary descriptions by those who met them. Emily was prone to violence, even beating her dog with fists at one point, Anne was quiet and shy to the point of withdrawn, and Charlotte so diminutive in size, with a large chin and lacking teeth, it seemed unlikely, and unwelcome, that they would be pursued. These sisters were in a spot.
They knew their brother would not be breadwinning anytime soon as he wallowed in his own self-made problems, and their prospects for anything other than slavery in the form of governess work, something both Charlotte and Emily hated and were not cut out for at all (Charlotte nearly lost her mind in Belgium carrying out a term of this sort of work, while Emily had a complete attitude with authority) were nil. Anne's working reputation had been flawed by her brother having an affair with her employer's wife, and she had had to resign from a 5-year post as governess in shame.
Faced with this grim reality, all three sisters set to writing poetry, in the belief that if they could summon reading fans through a tome of combined works, they could then go onto a three-volume set of novels, one from each sister. As such, Emily's poetry was sublime, wild, and fresh, and it was Charlotte's belief that if they set Emily's work up with Anne's "competent" writing and her own "intelligent" verse, they could have some luck.
To hide their female identities, they chose to become Ellis (Emily), Currer (Charlotte) and Acton (Anne) Bell. Unfortunately, no publisher was interested, except for a vanity press, Aylott and Jones, that would charge them to print "Poems by Currer, Ellis, and Acton Bell." Print on demand!  You can now read these poems here on Project Gutenberg, with Emily's considered to this day the best work, with her dramatic poem "The Prisoner" standing out for critics, unknowingly revealing how utterly desperate the three spinsters were getting with their lot:
Oh I dreadful is the check—intense the agony—
When the ear begins to hear, and the eye begins to see;
When the pulse begins to throb, the brain to think again;
The soul to feel the flesh, and the flesh to feel the chain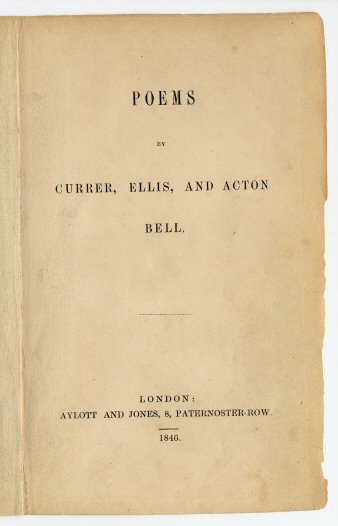 Charlotte reports in her diary that they sold only 2 copies, so self-publishing back in the 1840s was more or less the same story as today! Self-published authors who thought books might fly off the shelves without a jot of promotion from their providers, or themselves! Sound familiar?
Desperate, with their brother on the edge of death from his own neglect and abuse, the girls sent their novels, The Professor from Charlotte, inspired by her obsessive passion for her professor during a Belgian study trip, Wuthering Heights from Emily, inspired by a story a governess told her about a man getting revenge in Halifax, and Agnes Grey, inspired somewhat by her time as a governess and the daughter of Patrick the clergyman.
After failing to get a traditional publishing house to publish their books, they vanity-published through Thomas Newby, with the sisters paying up front costs of £50 from their earnings from governess work.
However, Newby was not entirely without gatekeeping. The Professor was rejected, instead Wuthering Heights and Agnes Grey were published together in two and one volume of a three-book set. Charlotte was devastated, but it's likely her book was something of an apprenticeship for the next book, Jane Eyre. All three books were published, with Jane Eyre being published traditionally.
Despite the two books from Newby being panned as shocking by critics, the girls made some money from the novels, and the success of Jane Eyre by Currer Bell was resounding. Celebrated by every literary magazine and author as a triumph, it became a rumor that the Bell Brothers were in fact one person.
Newby tried to wrangle a deal out of an American publishing house for The Tenant of Wildfell Hall, Acton Bell's next 'sensational novel', by claiming it was "by the author of Jane Eyre." Anne and Charlotte gathered skirts and headed immediately to London, where they unveiled the Bells as The Brontës, three separate people, putting an end to Newby's schemes. Emily refused to go to London, seeing no need to be "ridiculed", and as a result missing out on a trip to The Royal Opera.
Newby's terrible printing of Wuthering Heights and Agnes Grey, with many editorial and presentation errors, and underhand behavior, only goes to show that vanity presses trying to turn a buck out of self-publishers hasn't changed in 200 years!
It was only down to Charlotte's editing skills that a second edition in 1850 saved the posthumous reputation of the books' authors, and sales started up, with the likes of Florence Nightingale and Thackery as fans of the Brontës.
Jane Eyre is also thought to have inspired Dickens to write David Copperfield, although he claimed cantankerously that he didn't need to read her book in order to be inspired! Charlotte was the first known author to write from a child's perspective until that point in English literary history.
Anne died of pulmonary tuberculosis aged 29, shortly followed by Branwell, aged 31 from "chronic bronchitis–marasmus" and alcoholism, then Emily, who fought to the last breath with tuberculosis caused probably by grief and the run-off of the church roof's water being used in cooking and washing. It's thought she died thinking "Wuthering Heights" was something of a failure.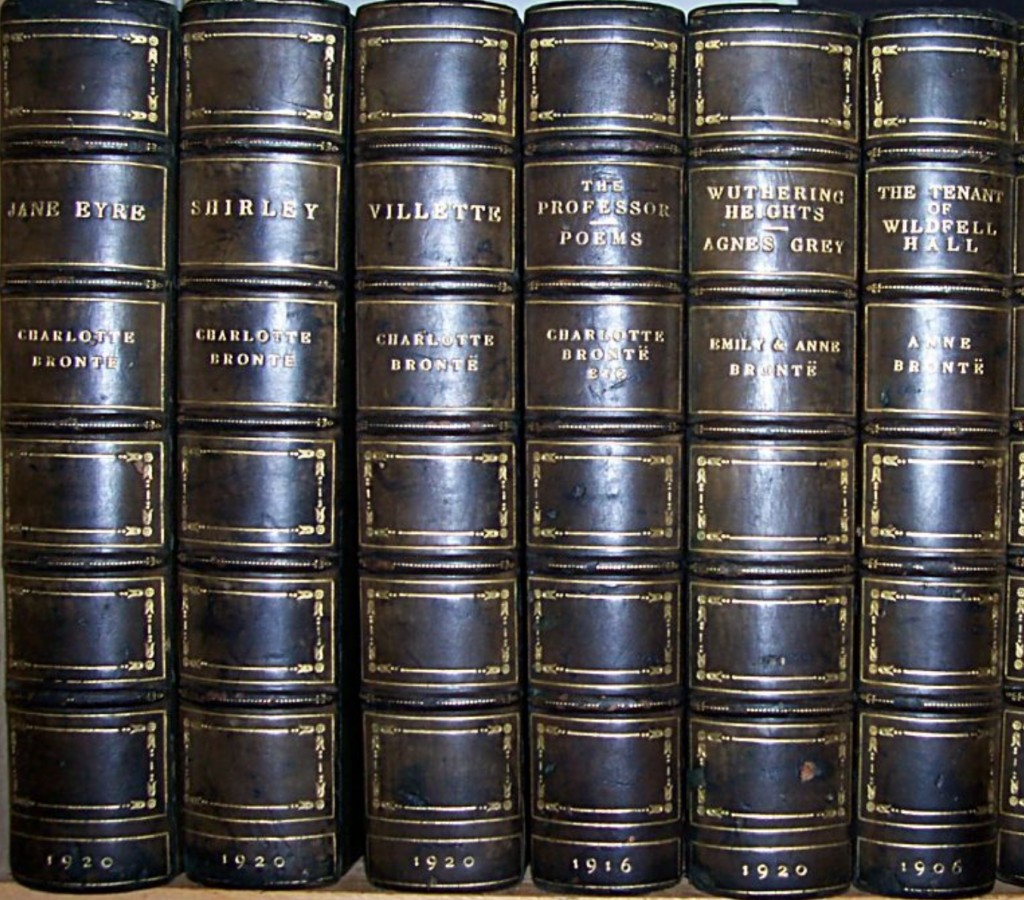 Charlotte went on to publish two further novels traditionally, the rather dry Shirley and Villette, maybe the remnants of her beloved unpublished tome, The Professor rehashed. She married, but died five years later, maybe of tuberculosis, maybe due to dehydration or extreme morning sickness (from the fact she was pregnant at the time of her death), or maybe of typhus. She was only 38 years old.
But the three sisters set out to make their own living through self-publishing so they would not be a slave to their situation, gender, or society, and that they did, and it's interesting they faced the same self-publishing obstacles as we find ourselves today!
---
This article was written after reading, Charlotte Brontë: A Life by Claire Harman  published by Viking (RRP £25), and a visit to Haworth's Brontë Parsonage Museum, UK.

You can see a portrait of Charlotte Bronte at the National Portrait Gallery in London, UK.