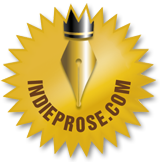 At LJ Sellers' site, there's word of a new gatekeeping operation called IndieProse.  From their site:
Over 1 million books were published last year, many a result of the explosion of print-on-demand (POD) and electronic books (ebooks). This is great news for readers who can find the gems buried in the mountain of self-published books. Unfortunately, most self-published books are expensive and many are supremely disappointing.

The bestseller lists are packed with the same old cadre of hyped (and over-hyped) celebrity authors churning out formulaic stories that all sound the same. These books are safe bets, but wouldn't you rather discover fresh new voices headed for the bestseller lists? Find them here.

We are here to sift through the mountain of self-published and small press books and stack the gems neatly for you to admire. We're not a huge site. We may never be. What we are about is quality. We don't give indie writers a break because they're small. We expect a compelling story and a professional book that can hold its own against that paperback you bought last week in Wal*Mart.

If you are looking for a great book from a writer you've never heard of, IndieProse.com is the place to start.
Personally, I don't have a problem with IndieProse putting this together.  It's a big market and a good business model…for them.  I just wonder about its usefulness.  Gatekeeping in traditional publishing means that the publisher takes a risk – they put their money up in the hopes that the book will be successful.  This is the key to gatekeeping – not just that a publisher liked it, but that they liked it enough to put money behind it.  That value potentially means literary value.
The problem with IndieProse's stamp of approval is that it really just gives writers another place to list a book online.  There is nothing yet suggesting what exactly writers get for the investment.  If IndieProse were to send out frequent press releases or otherwise aggressively promote the site, then the $150 fee to be listed makes some more sense.  But if your book's just sitting there on a static website, this might not have a lot more value than, say, commenting on this blog post with a link to your book – which is totally free.
I don't want to knock IndieProse too hard, because this model could help a writer or two get attention.  My novel won a couple of awards – for a fairly hefty entry fee – so I'm not immune to wanting to enter into this kind of arrangement.  The IndieProse stamp of approval is sort of like saying a book won so-and-so award.  Helpful, but only if IndieProse has clout and reach.
And only if the site is selective.  The problem with this is the operators need to be totally aboveboard ethically.  As a commenter says on LJ Seller's site, IndieProse needs to be rejecting books at the rate publishers reject books.  But if their total investment is bandwidth (which is a minimal cost) you could see them accepting everyone just so they can get the entry fee.
This isn't the only site of its kind – IndieReader does something similar.  The difference with Indie Reader is that they're an actual bookfront as well, whereas IndieProse sells via Amazon.  April Hamilton mentions:
If we don't need 'seal of approval' services for indie films or music, why do we need them for indie books? When I read about programs like this and find self-publishers are using them, it makes me wonder if self-publishers, as a group, suffer from a collective dose of low self-esteem.
Maybe, or it's just that the world of self-publishing, and books in general, is so insanely competitive that writers need every bit of help they can get.  If you can afford this, you might think about it.  But if you can't, there are probably better ways to spend your money – unless IndieProse can guarantee you some amount of increased visibility beyond a badge and placement on a website.