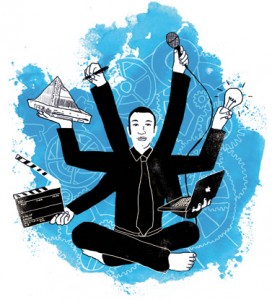 The Internet offers a wealth of resources for publishers, advertisers, and creatives to explore. It doesn't matter what writing activity you practice and what obstacles you face; you can always find the right tool that will help you get better in your work. To save you from the effort of exploring lots of different tools to find the right ones for your needs, we will list the most effective tools for creative writers, publishers, and bloggers in the continuation.
When Google Reader was discontinued, many loyal fans were left hanging. However, Feedly came to the rescue by offering the best platform for blog readers. With this tool, you can easily organize feeds from your favorite blogs that you regularly visit. In order to become a better creative writer and blogger, you clearly need to find inspiration that will spark ideas for new content. This is the right place to get it!
The most important tip for publishers of online content is that they cannot interrupt their activities under any circumstances. Your loyal readers will expect regular posts; otherwise they will find what they need elsewhere and forget all about your website or blog. If you don't have the time to write a post or you don't have the knowledge to cover a specific topic, you will find the needed assistance at NinjaEssays.com. At this website, you can hire professional writers from different fields of study to help you produce content worth reading.
This is another tool for social media management that enables you to work on different accounts at the same time. If you are running multiple accounts on social media websites for both professional and personal uses, those activities can consume a huge portion of your day. With Buffer, you can schedule automated posts to LinkedIn, Facebook, and Twitter.
If you publish online content, then you are surely aware of the importance of search engine optimization. That marketing strategy is not easy to master and sounds scary when you first get acquainted to its principles, but you should never give up on it. This beginner's guide by SEOmoz will help you master the skill of SEO in no time. It doesn't matter whether you are novice or a basic beginner in the search engine optimization strategy; this guide is useful for everyone.
If you are committed to mastering the skills of online marketing, Inbound is the right place to get started. This is a marketing community that enables its readers to find important tips and tricks that will make their content popular, as well as to submit their own content relevant to inbound marketing.
If you want to be a successful publisher of online content, then you have to pay attention to your social media strategies. Hootsuite will prevent you from getting lost among different social media profiles by enabling you to monitor and organize them from a single online destination. The tool also enables you to follow mentions of your brand or content, so you can monitor your popularity in the online environment.
If you are too tired of looking at the computer screen, then you will appreciate learning new marketing techniques from Rachel Parker's podcasts. The podcast covers the area of content marketing from its basics to its most complicated aspects. If you are looking for full education on this matter, Rachel's podcast is the right place to start.
Choose the right tools that will make you a more effective writer!
The seven tools listed above have been tested, trusted, and respected by many users who found them useful. As soon as you start using their full potential, you will realize that you never were as productive and effective as you could have been. As any other blogger, publisher and creative writer, you also need contemporary tools that will help you do your job better and target the right audience.
Image Source: Monique Wijbrands