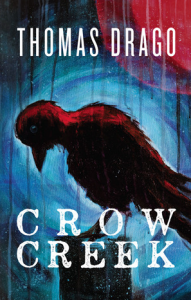 Apart from a few suicides over the past couple years, the small North Carolina town of Crow Creek is of little note to anyone outside of its residents – friendly, well-acquainted – and while sad news will always rock a community, life goes on for the people within it. That is until the day a sinkhole swallows up a mother and child along with half a football pitch of land, and some residents suddenly have a reason to think that their private suspicions might have common ground, as strange as it may be.
Starting out slow and small, Crow Creek feels very Twin Peaks-inspired in every way. Switch out the Pacific Northwest for a hearty helping of Southern culture and a you can put together a decent image of what's in store. Snippets of small town lives are presented as single pieces that come together over time as paths cross and themes begin to appear to those paying attention from behind the Fourth Wall.
Shared tragedies and unspoken supernatural elements underpin what is otherwise a perfectly normal town (at least that's how its residents prefer to think of it), a feeling that is expertly crafted by author Thomas Drago in his living, breathing description of the town. A mother engages her husband in yet another plea for time alone, a pastor lets his vices free behind the back of the office, a sheriff hides his struggle with his mental health. These are all real life, believable concepts of people, not a two-dimensional plot point dressed in human skin that walk and gossip and plan and fantasize. Personal agendas, hidden flaws and dark secrets are shown without passing judgment on whether characters qualify as "good" or "bad," just another piece of the big puzzle set they live in. Details like nicknames and speech habits to laughably believable bathroom graffiti is noted by the author and creates such a wonderfully real, palpable setting for the fishbowl town of Crow Creek.
The story hints at a dark element behind the scenes of the initially dismissible lives we peer into in each small, focused chapter. Just one or two chapters into the book really sets up expectations for the way the book carries on, jumping between scenes and characters without ever making a single one too important and certainly not expendable on occasion. The cover really helps this expectation with an eye-catching painting that holds a subtle, creepy aesthetic with a hint of rustic, as if one of the residents themselves were inspired one day.
The cover pushes the reader to give the book its well-deserved attention as all the small and mundane detail puts towards some bizarre but completely compelling twists as you read further and further in. Not to give anything away, but as I reached the end, I somehow had no question of how I got there despite entirely different initial expectations.
Crow Creek by Thomas Drago is a rare read that straddles a line between the regular and the strange without missing a beat in terms of interesting content but never quite committing to either side. All I can say is, the town of Crow Creek is more than it seems – will you be visiting?